"About me"
My name is Antoinette MH Brandenburg(1959) I live and work in Rotterdam.
My studio with the name "Ut Spoort Niet" is in an old building which used to be a train station.
From a very early age my mother taught me how to draw, to model, to embroider, to work on wood and to paint.
After high school I decided to go to nursing school and made a career in health care and education.
I choose not to go to the art academy. I wanted to develop myself in drawing and painting.
And that is what I did.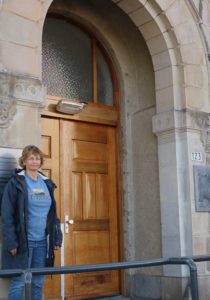 The result was in 1995 my first exhibition, selling my first painting. To a student of the art academy!
In 2006 I was ready for two masterclasses in Florence Italy.
That was the FAA Florence Academy of Art (portrait en figure painting).
For me a personal achievement. There was a complete change in my painting technics and working process.
I use a classic palette with red white black and yellow colors. If necessary completed with other colors.
Constructed with several layers of paint this is now part of my working process.
A long process but with excellent result in perspective and light and dark contrasts.
Getting curious to see my paintings? Go to: schilderijen en atelier.
Want information about workshops and classes? Go to: workshops and classes