Aan alle kunstliefhebbers en lezers van mijn eArtflitsen!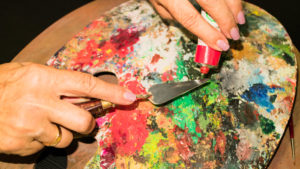 Deze keer iets heel anders namelijk een video met mijn nieuwste schilderijen; kijk snel en ontdek mijn wearable paintings!
Veel kijkplezier!

Antoinette MH Brandenburg
Kunstschilder
Dear reader of my eArtflash,
Watch this video with me and my new wearable paintings!
Have fun!
Antoinette MH Brandenburg
Artist
Met vriendelijke groet,
Antoinette MH Brandenburg
Kunstschilder